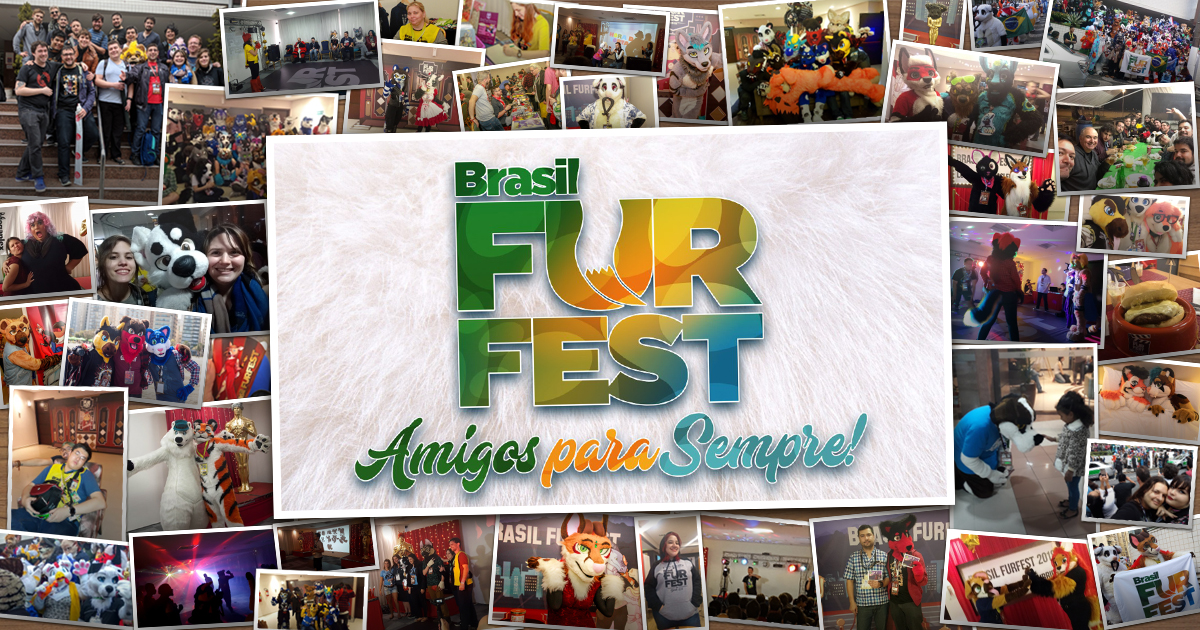 A hotel furry convention in Brazil
Brasil FurFest, also known as BFF, is an annual furry-themed weekend convention held between August and September at Mercure Santos Hotel in  Santos, SP, Brazil. A charity fund-raising campaign is hosted anually, helping SOS Vida Pet Litoral, a social project that keep street animal shelters in the region of Santos, Brazil. In 2021, during BFF Online attendees raised R$ 26.000,00 (~USD 4,900.00).
The event was created in 2016 by furries (fans of the anthropomorphic arts) who mix animals with human characteristics with the goal of being a meeting point for furry fandom (as the community of artists and fans of this sub-culture is called). BFF was created based on similar conventions held in the United States and Europe.
The founders of Brasil FurFest already had the idea of holding a hotel convention in Santos in 2014. At the time the name chosen was "Confursão" (Furry convention of Sao Paulo). Considering that the staff had no experience in organizing large events, they decided to hold a furry bowling event to gather experience and understand the dynamics of fandom. Thus was born Furboliche, which for two years was the largest furry meeting in Brazil.
When it was announced that a convention and camp would be cancelled after the 2016 edition, Furboliche's staff decided to move forward with planned hotel convention for furry fandom in Brazil. The name Confursão was changed to Brasil FurFest.
The official BFF announcement was held at the fifth edition of Furboliche. During the presentation the logo, photos and videos from the convention's hotel were revealed and it was announced that the convention would be started through a crowdfunding project with a target of R$ 6.000,00 (USD 1,500). Additional goals were announced later adding more activities and structure to the event.
The crowdfunding goal of Brasil FurFest was met in only 13 days, on February 27th. The staff then confirmed the convention would happen. At the end of the 60-day crowdfunding campaign, R$ 15.390,00 (USD 3,847) was raised and all additional goals (which introduce new activities and structure to the event) were achieved.
On April 24th, 2016 a video was released on youtube featuring the theme for the 2016 convention: "Furries in Santos", a pun on the name of the song "Naked in Santos" by the band Mamonas Assassinas.
Brasil FurFest's  first edition was held between September 9th to 11th, 2016 and hit the 169 attendees mark (54 fursuiters) from 9 Brazilian states and Brazil's Federal District. The event also featured attendees from 4 countries besides Brazil.
Brasil FurFest's second edition, in 2017, hosted 287 attendees from 9 countries and had the theme Furries in Space.
In 2018 the convention registered its largest attendance. There were 431 furries, a 50% increase over the previous year.
During BFF 2018's closing ceremony the staff presented the new convention slogan: "Friends forever" and also announced that 2019's theme would be "Furtropolis, Brazil".
Brasil FurFest 2019 was held at Mercure Santos Hotel from August 23th to 25th and received 571 furries from 8 countries.
Due to Covid-19 pandemic, 2020 and 2021 events were hosted online.
Next iteration is expected to happen in 2022, at Sheraton Santos Hotel with theme "The Fantastic Candy Factory".