Brasil FurFest 2017 – Furries in Space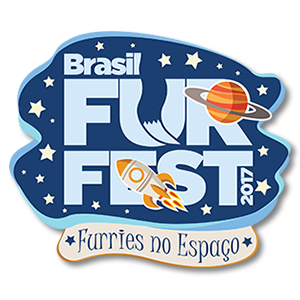 Mercure Santos Hotel
Santos, SP, Brazil
August 25th-27th,  2017
Guests of Honor


Felipe Marcantônio (Brazil)
Igor Cebarros (Brazil)

287 attendees
SP, RJ, BA, RS, SC, PR, MG, ES, DF, MS, MT, GO, PB, CE and PI
Argentina, Paraguay, Chile, Colombia, Mexico, USA, Germany and Finland
Fursuit Parade


107 fursuiters
Charity


SOS Vida Pet Baixada Santista
R$ 2.668,10 (USD 841.67)
Dance Competition Winners


Fursuiters
Âmbar (Brazil)
Non-Fursuiters
Vinny (Brazil)
Duos
Crash e Lars (Brazil)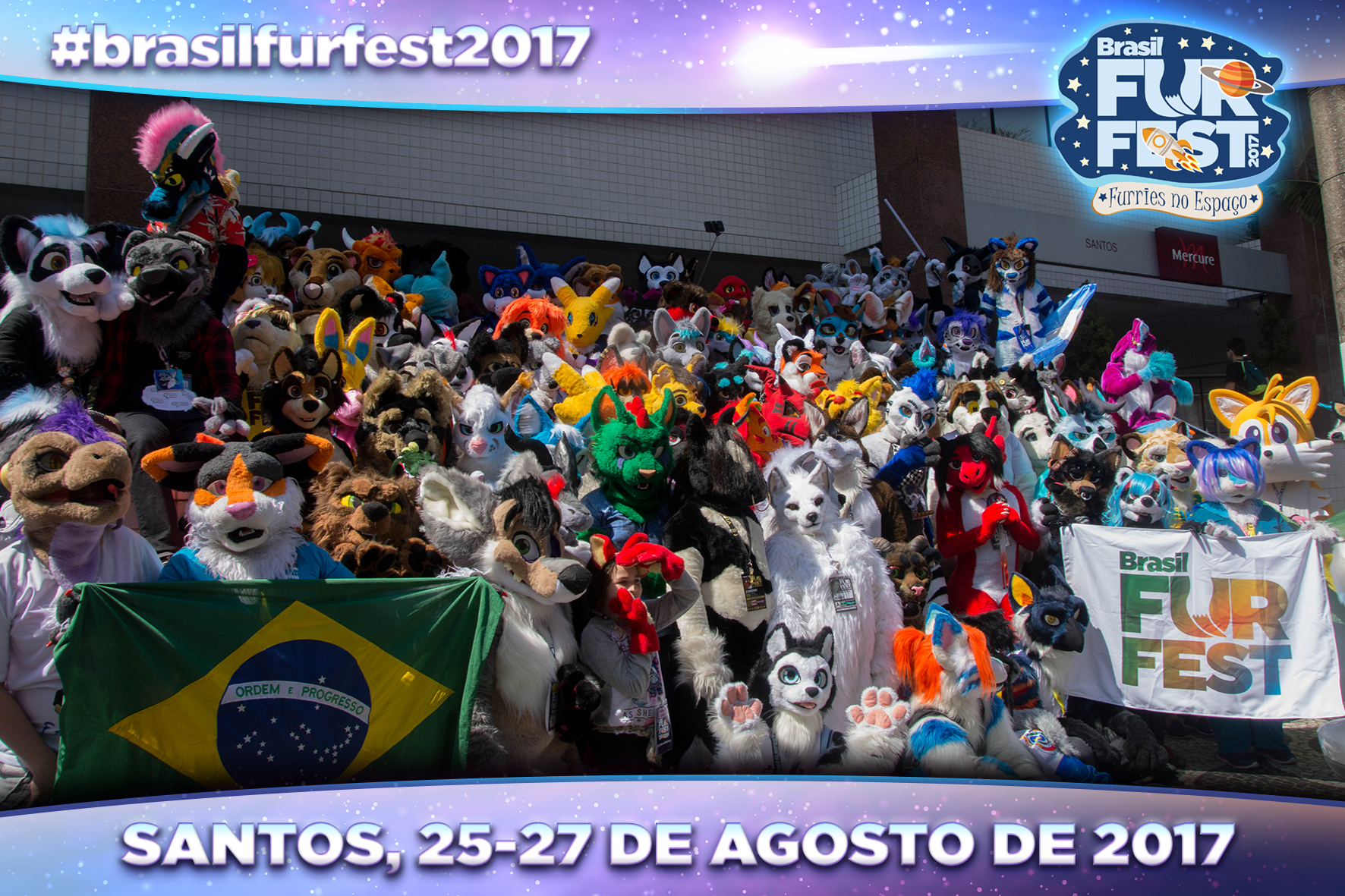 Explorimg a furry universe!
Brasil FurFest's second year was officially announced at Furboliche 6 in April 2017, along with it's theme, Furries in Space, and the guests of honor: Igor Cebarros – artist, youtuber and fursuit maker along with Felipe Marcantonio – illustrator. At the time the event had already 123 registered attendees.
The opening ceremony was held in August 25th where a video about friendship was presented along with a theatrical performance about a furry space flight and at the end the staff explained details about the convention. The following activity was a night dance that featured a decorated lounge, themed rooms and drinks named after the convention's theme.
The weekend was full of activities like workshops, panels, dealer's den, artist's space, Fursuit Parade, fursuit games and a very crowded games room featuring a Super Smash Bros tournament. Dance Competition featured 3 categories: fursuiters, non-fursuiters and duos.  Winners were Ambar (Brazil), Vinny (Brazil) and Crash and Lars (Brazil), respectively. At the dance competition the chairman challenged the audience to raise R$ 500 (USD 158) for charity and he would mimic the choreography from one of the dance competition winners. The goal was achieved and the improvised performance closed Saturday night's activities.
On Sunday, the fursuit parade was held during the morning and featured 107 fursuiters. During the parade one of the fursuiters ended up falling down and another one felt sick due to the heat inside the fursuit. Both were helped by the convention's medical team and moments later were feeling ready to keep having fun. The staff announced at the closing ceremony that the fursuit parade will be held again on Saturday afternoon to minimize heat effects.
The closing ceremony marked the end of the convention and led many furries to tears during special moments. A surprise charity auction was held which substantially increased the funds raised for the NGO SOS Vida Pet Baixada Santista, reaching the total of R$ 2.668,10 (USD 841.67). The staffs of different Brazilian furry events and gatherings along with ColombiaFur group were invited to take a picture together, showing that all were united to help the fandom grow. The final numbers of the event were announced: 287 attendees from 9 countries and a thank you message was presented in Portuguese, Spanish, English and Finnish in honor of them all. The final announcement was that Brasil FurFest's third year would be held at Mercure Santos Hotel again from August 17th to 19th, 2018. The theme was also revealed: "Lights! Cameras! Furries!".