Volunteering at Brasil FurFest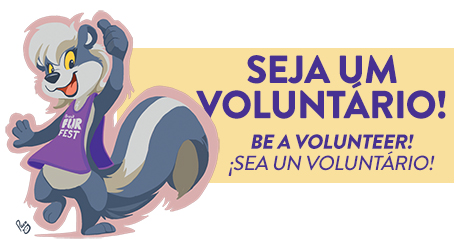 How do I help?
If you are interested in volunteering at Brasil FurFest be sure to read carefully the description of each area of the event. We will do our best to combine your volunteering time with the areas of that interest you!
We need your help!
Brasil FurFest is an event that is growing quickly and growth brings challenges that are common to every event. We are recruiting volunteers to actively participate in the convention by helping in the operation of the event.
Check the areas where every helping paw is welcome!
Animal Control: Do you have a 20/20 eyesight? The convention areas are for exclusive access to registered attendees and we need you to be sure that only the furries carrying the event badge are entering those areas.
Dealer's Den: Do you want to help and have the chance to meet some of our fandom's most talented artists? Sign up to volunteer at the Dealer's Den and help the convention and vendors to set up and operate the room during the sales period.
Fursuit Games/Fursuit Lounge / Fursuit Parade: If you like fursuits you can help the furries who wear the costumes during the activities as well as in the Fursuit Lounge. You don't have to be a fursuiter to help.
ConOps/Activities: The convention as a whole needs your help! Every paw is welcome do help assisting the activities, replenishing water gallons, assembling and disassembling the rooms and other backstage operations (including opening and closing ceremonies and dance competition).
Other areas may need help and volunteers may be assigned to assist in all areas of the event.
"What should I do?"
If you wish to volunteer just introduce yourself to the staff table at the L floor lounge and find out what you can do to help.
Requirements
All volunteers must comply with the rules and procedures of the hotel and the convention. Volunteers are not only attendees. They are considered part of Brasil FurFest's team. By volunteering you are expected to be courteous with your colleagues, attendees, convention staff, hotel staff and everyone else.  Make the most of your time while helping behind the scenes.
To volunteer you need to be a regularly registered attendee and be at least 18 years old.
Foreigners can also help, bringing new experiences to the event.
There is no minimum time commitment for volunteers!
You can volunteer for as long as you want. However it is your responsibility to register and check your hours with the volunteer coordinator to be awarded the proper credits. It is your responsibility to fill out the volunteer sheet otherwise we will not be able to award your credits.
Credits can not be transfered from previous or to subsequent year.
Fursuiting while volunteering?
You can wear your fursuit while volunteering, but you will not be awarded credits while doing it. This is because volunteers should be able to talk to participants and hotel staff and being easily understood as well as performing tasks such as operating communication devices, handling objects, checking badges or moving quickly (and safely) up and down if needed.
Rewards for helping
Check below the credit table for volunteering at Brasil FurFest
Friday (limit 6 hours)
Every complete hour: R$ 5 off on any registration for next Brasil FurFest.
4 complete hours: R$ 30 off on any registration for next Brasil FurFest.
Saturday (limit 8 hours)
Every complete hour: R$ 5 off on any registration for next Brasil FurFest.
6 complete hours: R$ 50 off on any registration for next Brasil FurFest.
Sunday (limit 8 hours)
Every complete hour: R$ 5 off on any registration for next Brasil FurFest.
6 complete hours: R$ 50 off on any registration for next Brasil FurFest.
Volunteering for disassembling the event for at least 1 hour – R$ 20 off on any registration for next Brasil FurFest.
When volunteering you will be gifted an exclusive bottom from BFF volunteering team.
By completing R$ 100 of volunteering credits you will automatically be awarded a basic registration for next Brasil FurFest.. Additional credits can be used for registration upgrades.
All volunteers who complete at least 2 hours will be entitled to a gift to be handed exclusively at the Closing Ceremony (there will be no gift handing before or after this activity).
Volunteers will receive at a later date through e-mail, a letter recording the volunteering time with the awarded credits to be used the following year.
Changes in credits awarding can be announced, always favoring the volunteers, at the closing ceremony. Surprises can happen!