Where to stay in Santos?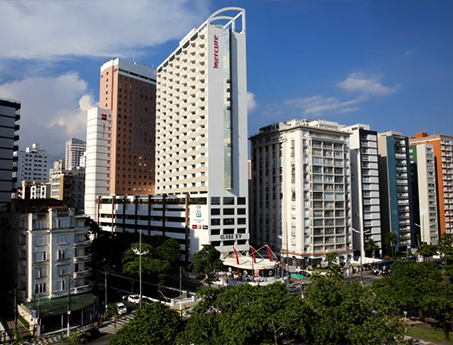 To help attendees on planning a trip to Santos, we created this little guide with information about booking rooms in the city, remembering that the accomodation is NOT included in the registration of the event and it is up to the attendees to scrupulously analyze the rates and conditions of hiring books in hotels or  other places.
We recommend to attendees to stay in groups so room rates can be split between them, thus helping everyone's travel budget. If you have any questions, please contact the convention staff.
Staying at the convention hotel is not mandatory, but staying in the same location where the convention is taking place is always more interesting since you'll live theatmosphere of the event all the time!
Reservations can be made via the hotel's own website. We recommend that attendees first seek prices on the indicated sites.
Rates reported by phone are generally more expensive, because they usually are not promotional.
Although Brasil FurFest staff is always available to help ateendees choose and plan travel details, we remind you that we are not responsible for the accomodation whether at the convention hotel or anywhere else.
At Mercure Hotel, convention's venue
At Ibis Hotel, in the same complex
Ibis is locted in the same complex of Mercure Hotel, just a few steps away from the main entrance.
Access between the hotels is covered.
It has rooms for 1 or 2 people only (2 single beds or 1 double bed).
The hotel has a restaurant and parking lot.
Breakfast and parking lot are charged separately.
Website (In English):
https://www.accorhotels.com/en/hotel-5530-ibis-santos-gonzaga/index.shtml
In case you do not want to stay at the convention hotel and wish to look for more options, we leave here the link to one of the best known hotel search engines.
Search for Santos, Brazil and the dates of the event.
Reservas:
Trivago Hotel search engine