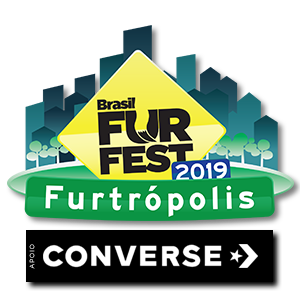 Brasil FurFest 2019 – Furtropolis
Mercure Santos Hotel, August 23-25, 2019
In the heart of Brazil there is a vibrant city where incredible furries live! Through its streets, avenues and parks, the culture, sounds and colors of Furtropolis enchant all visitors!
Come and visit this magical city and enjoy the 4th year of Brasil FurFest, which will have as guests of honor: famous musician Pepper Coyote (partner of Fox Amoore) and talented fursuit-maker Zeng Tiger.
We invite all furries to join this great party of the South American furry fandom!
Registration open until August 5th, 2019
BEFORE PROCEEDING WITH YOUR REGISTRATION, PLEASE READ THESE IMPORTANT INFORMATION.
Foreigners must only pay via PayPal.
Slots limited to the first 450 registered attendees according to the capacity informed by the hotel. See our pricing policy and registration schedule.
Basic and Sponsor Registrations open until July 29th, 2019. Super Sponsor Registration open until July 12th, 2019.
In case of reaching the limit of registrations during pre-registration, there will be no sale of tickets at the door during the days of the event.
It is mandatory to be registered and bear your badge in order to stay at the foyer of floor L and convention rooms, according to BFF's lease agreement with the hotel.
It is possible to upgrade the registrations already purchased according to the deadlines above, by e-mail

[email protected]

Parents of all participants (including adults) can attend the event as companions, without payment of registration, limited to two companions per participant.
Further information can be found in our Rules of Conduct.
What will be the schedule for Brasil FurFest 2019?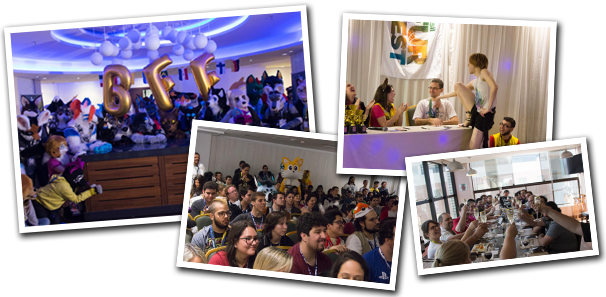 Interaction with furries from Brazil and abroad

Rooms with air conditionng and controlled envinronment

Activities focused on Furry culture

Similar structure compared to big furry conventions held around the globe
Workshops

Panels

Artist's Room

Dealer's Den

Dance Competition

Charity Auction
Interaction with furries and fursuiters

Gaming Room

Event coverage with photos and video

Fursuit Games and Fursuit Parade

Karaokê
Check where Brasil FurFest is hosted!
Mercure is one of the best hotels in the city. Located in front of the sea, in the wealthy area of Santos, the hotel has state-of-art infrastructure to host the event.
Mercure Santos is also an excellent option for attendees wishing to stay at the same venue of the convention (accommodation is not included in the registration and is not mandatory staying at the hotel). In addition to the Mercure, the complex also has an Ibis hotel, always a budget option.
Click here for info on accommodation.