Thank you for another amazing year!
It was wonderful sharing a magic weekend with furries from 8 countries (Brazil, Argentina, Uruguay, Chile, Colombia, United States, Scotland and Portugal) at Mercure Santos Hotel!
I'd like to say thank you to all the attendees that made and make Brasil FurFest a place full of joy, arts and beauty each furry has within.
I'd like to say thank you to the staff, volunteers and companies that helped making the event. Of course, we also would like to say thank you to Converse, that believed in this dream and helped us enhancing our main room.
The dream of having a furry convention in Brazil is alive! Now we meet again in 2020, at Mercure Santos Hotel for the 5th edition of Brasil FurFest. Our theme is "A Haunted Hotel", which is shared with Argentina FurFiesta, making the fur from all furries from South America stand on end!
You are our guest!
Thank you again for this amazing weekend!
See you in 2020!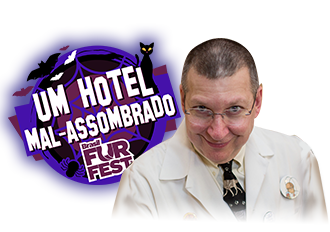 Brasil FurFest 2020 – A Haunted Hotel

Mercure Santos Hotel, July 31st to August 2nd
Guest of Honor: Uncle Kage